Journey to the end of the world 9D
We want to tell you about Tierra del Fuego situed south of the Strait of Magellan opposite the city of Punta Arenas. This is a large island, with a surface of 47,992 km² (18,529.81 mi²), which has a population of 133,000, who consider themselves as "Fueguinos", and not Patagones. The north of the island consists of plateaus and slightly undulating plains. The south is occupied by the southern end of the Andes mountain range, with many lakes, forests and mountains: the highest peak is Shipton which is 2,469 m above sea level. Spring is very windy, especially in the north of the island, in summer the wind is a lot gentler. There is a variety of wildlife, and the vast landscape is incredibly dramatic at the first light of day. There are many farming areas in the island, divided into "estancias" where thousands of lambs are bred. As a result, there are many tasks and occupations, mainly carried out by men, such as the puesteros (camp tenders), ovejeros (shepherds), alambradores (wire fencers), amansadores (horse tamers) and tropilleros (horse herders). All these occupations have something in common, solitude.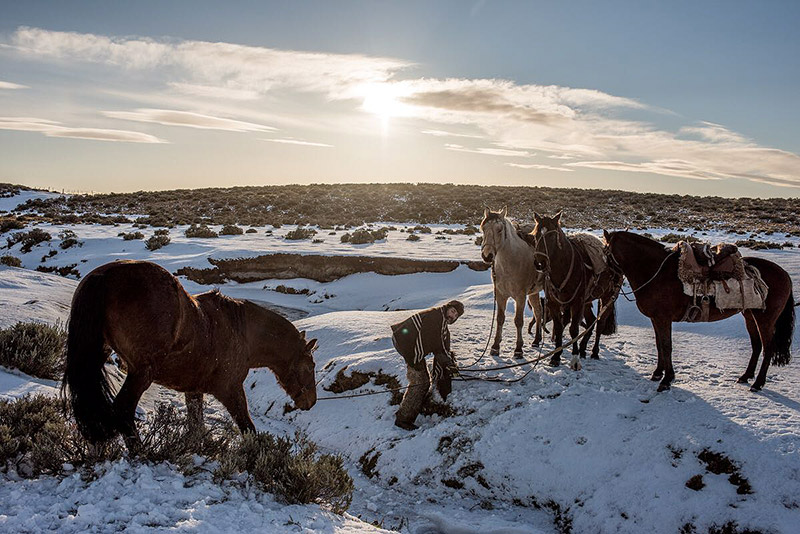 Our goal is to offer you the experience of the people that work in Tierra del Fuego, following with us the route of a horseman and tropillero.
The Route: This is a non-traditional service, exclusive to experienced riders of long journeys and harsh weather.
To reach Tierra del Fuego we must stay at least one night in Punta Arenas. If the wind is stronger than 80 km/h (50 mph) the ports close which makes it impossible to cross the Strait of Magellan until the storm dies down. This can happen on the journey to and from the island.
Departure is at 09.00 am on a ferry from Punta Arenas crossing the Strait of Magellan to the small city of Porvenir, the entrance to the Chilean Tierra del Fuego.
Diet Food is cooked over direct fire in the camps or shepherd posts. Although a lot of lamb is consumed in the area we also prepare beans, vegetables that can last the journey (onions, garlic, and carrots), nuts and we make our own bread. We also take chocolate, biscuits and wine. Anything you personally want or need to bring must not exceed 3 kg. Once the journey starts there will not be any shops or markets as we will travel through inhospitable places.
* We do not offer a special vegetarian or vegan service. It is important to bear in mind that meat is the main basis of the diet in the area, so we will frequently witness animal slaughter.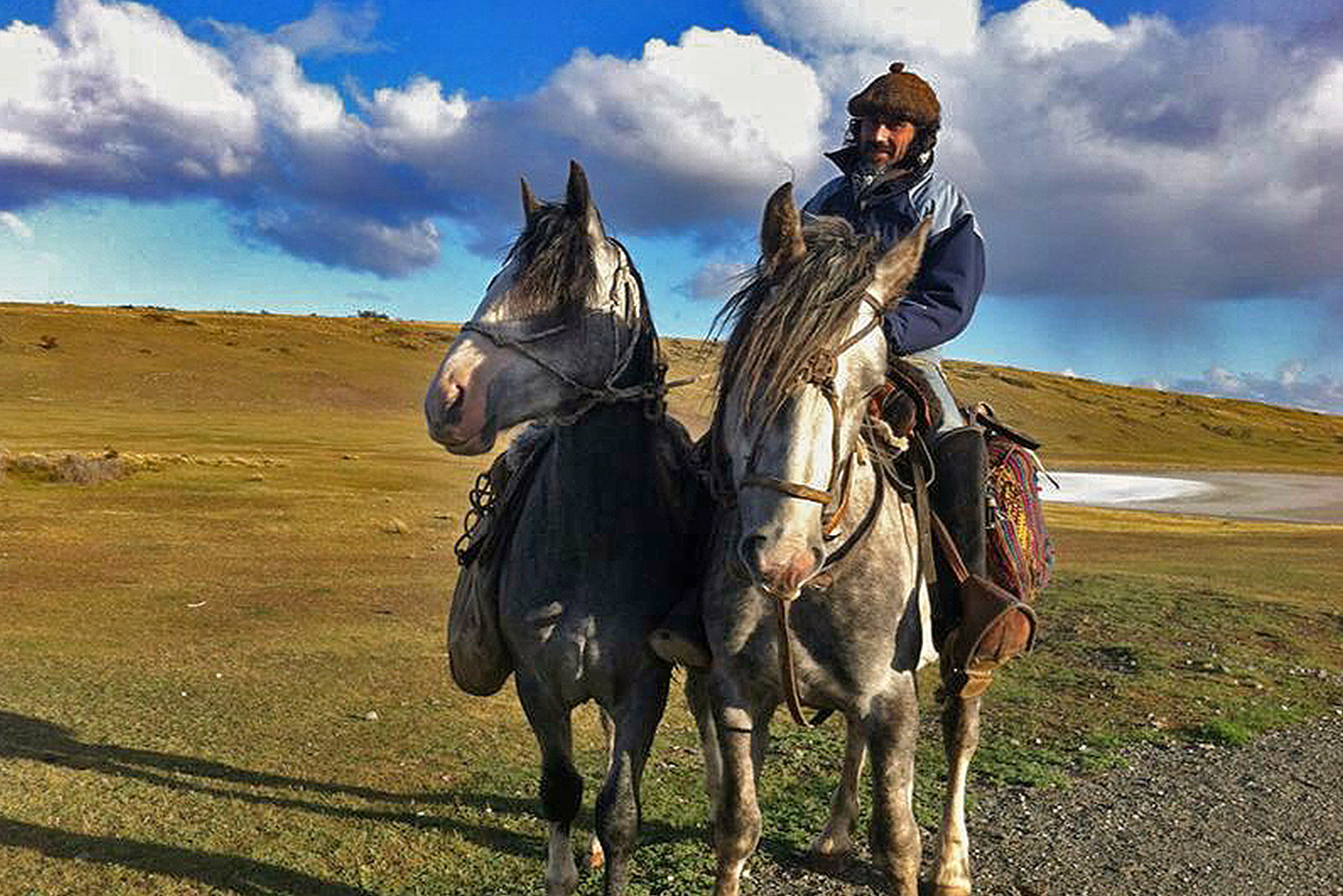 Experience only for riders
These specifications are for the safety and tranquillity of everyone involved in the expedition. The horses in Tierra del Fuego are raised in freedom, in large pampas with extreme weather. Even though they are tamed their nature remains wild.
We are continually taming young horses, and we select the horses we use for the journeys from these groups. The season for these trips lasts for 6 months (spring and summer).
During the journey we take horses that are still in the process of being tamed because this is our first job and we want to share this with you.
During the trip each person must saddle their horse and the guide in charge will check the final details. While you are with us you will be treated by the puesteros (camp tenders) or the workers of the estancias as any other guest and sheltered under the traditional conditions of the people of the area.
We do not use tents, if the weather allows we sleep under the stars by a good fire or in one of the posts we visit.
Travel insurance and requirements
You must have a personal insurance that covers accidents, bearing in mind that although it is insured, the trip is an adventure.
We will be responsible of you personally throughout the whole journey, taking in all necessary precautions by instructing you and the other riders, because this is a safety principal.
During the trip we will count on the support of an evacuation vehicle in case of necessity. We have an assistance network in case of accidents, offered to us by the workers we will visit. To this day we have never needed to use this network and of course we hope we never do. It must be mentioned that some of the areas we will visit will not have access to telephone or internet signal.
This is a journey that is not offered in mass media, so you will not find it in tourism websites or from tour operators, which is why we need to choose our guests carefully. We will send you a questionnaire so that both parties are in agreement and to avoid misunderstandings.
Duration: 9 Days
Price: USD 4,980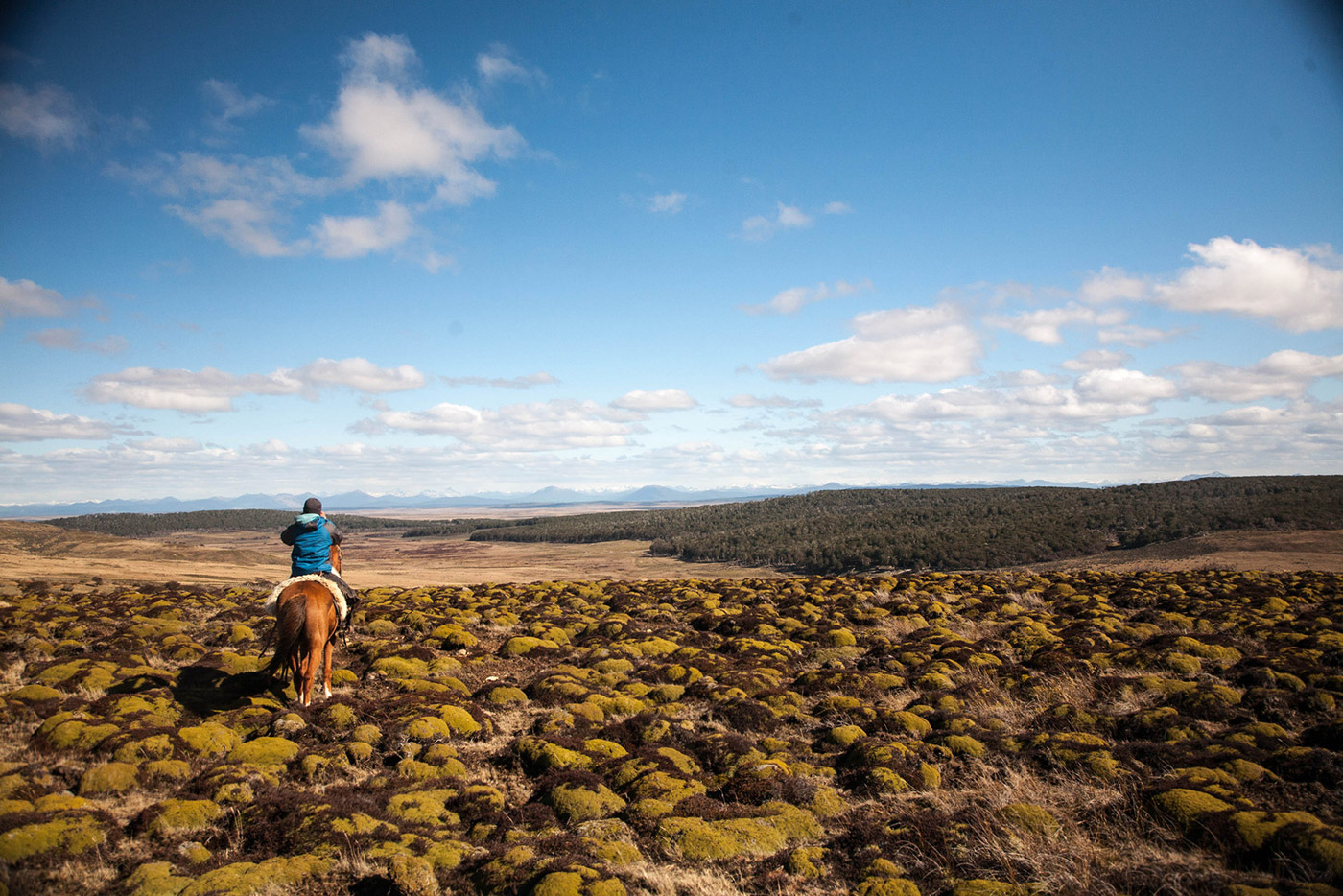 Itinerary
Day 1: We will be waiting for you in the city of Punta Arenas, the centre of the region, which is located on the shores of the Strait of Magellan where we will get to know each other and prepare for our departure the following morning.
Day 2: We will embark on the Patagon ferry at 09.00 am to cross the Strait of Magellan towards the small city of Porvenir. This boat ride will take 2 hours. We will arrive at Porvenir in time for lunch. After a small tour around the city and its museum, we will go to our starting point, Estancia Tres Hermanos. We will stay the night here and pick up our horses the following morning to start our first day's riding.
Day 3: We have breakfast and leave very early, going into the Pampas towards the forests and heights of the Carmen Silva mountain range. This day's ride will take 8 hours for us to reach our goal, the next resting place. This is a shepherd's post that takes us back into a time bubble. We won't have electricity or phone signal.
Day 4: After a substantial breakfast, we head south, crossing a small moor known as Monte Cazuela to then descend to the valley in Russfin, where we will spend our first night camping.
Day 5: After breakfast we will keep heading south towards Rio Grande, crossing it at a shallow point. It is then that we will be completely immersed in the depth of Tierra del Fuego, with the constant presence of condors, red foxes, beavers and river fishing.
Day 6: This will be the longest day of the expedition and we will test our physical and psychological capabilities. Our goal is the town of Pampa Guanaco, where there is a police (carabineros) check-point and a phone signal. Here we will count on the assistance of a vehicle so that, if you are overcome by fatigue, you will be able to get off your horse and carry on by motor vehicle. Third night camping.
Day 7: This day's ride is relatively short. We leave Pampa Guanaco and head towards base camp to end the journey in Laguna del Carabinero, a shepherd's post prepared for our rest. This is a place without comforts but surrounded by beauty, wild horses, guanacos, foxes, wild cattle, etc.
Day 8: This is a day of rest and you are free to go for a walk, to go fishing, take photos or simply rest.
Day 9: We will travel by car to Porvenir to board once more the ferry back to Punta Arenas and we will say our farewells hoping you enjoyed the journey and that in one way or another it has been an unforgettable experience.
Equipment
It is vital to bring all the adequate equipment necessary for an expedition like this. Here are some suggestions:
High factor sun cream.
Avoid synthetic fibres and choose cotton clothing or other natural fibres for the first layers of clothing.
Trousers must be preferably cotton and loose, the friction with the saddle may irritate/harm your skin.
Due to the wind your outer layers must not be too baggy or loose so they do not move too much in the wind. The noise and movement make horses nervous.
Scarf for your neck, hat to protect your head from the cold and the intensity of the sun, knife or pocketknife, UV protection sunglasses, flashlight, camera, sleeping bag.
Comfortable shoes, not to wide so they fit into the stirrups.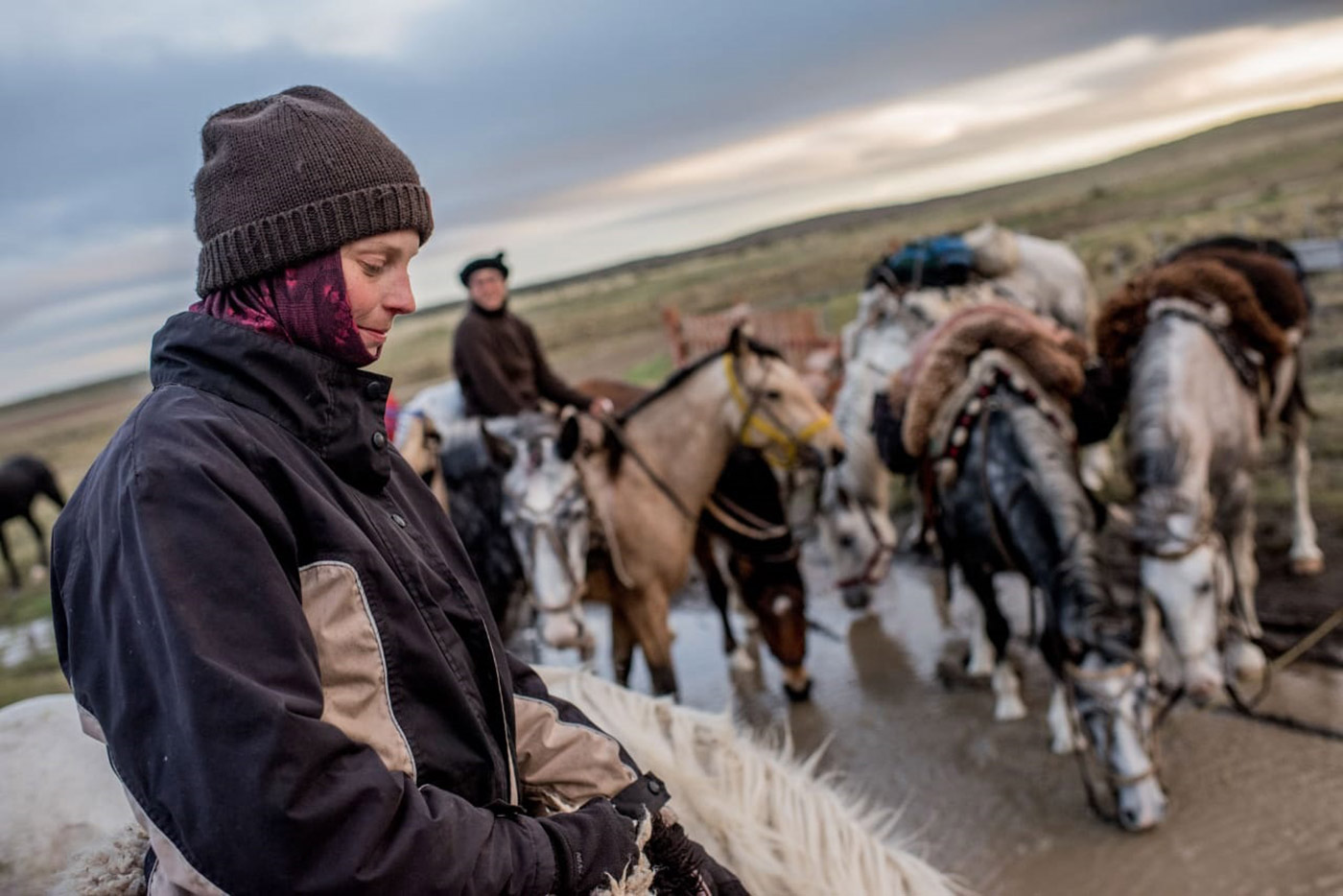 We would like to clarify that:
Our intention is not to sell a classic tour because we would not like to treat you as a tourist and only show you things of beauty. Our aim is to show you a way of life that is disappearing, and that is linked to the life and equestrian culture of Tierra del Fuego.
We have years of experience but new challenges can always occur. Sometimes nature imposes its conditions and we must accept them. It is important for you to be flexible in your travel arrangements.
Any questions you may have we will be glad to answer.