Insular Patagonia | 5D
Days 1 & 2: Horseback Riding to Cole, Chiloe National Park
The main idea of this trip is to visit and discover the area of Cole Cole. This place is located north of Chiloe National Park. From Cucao we will ride our horses north, through a long beach, we will arrive to Huentemo, indigenous (Huilliche) town where we can see some local productive activities. We will start riding up the "Piuchen Cordillera" (Mountain Range), among forests and cliffs we will arrive to Cole Cole Beach, that; because of its white sand and its native flora and fauna, has become the ideal spot to get in touch with nature.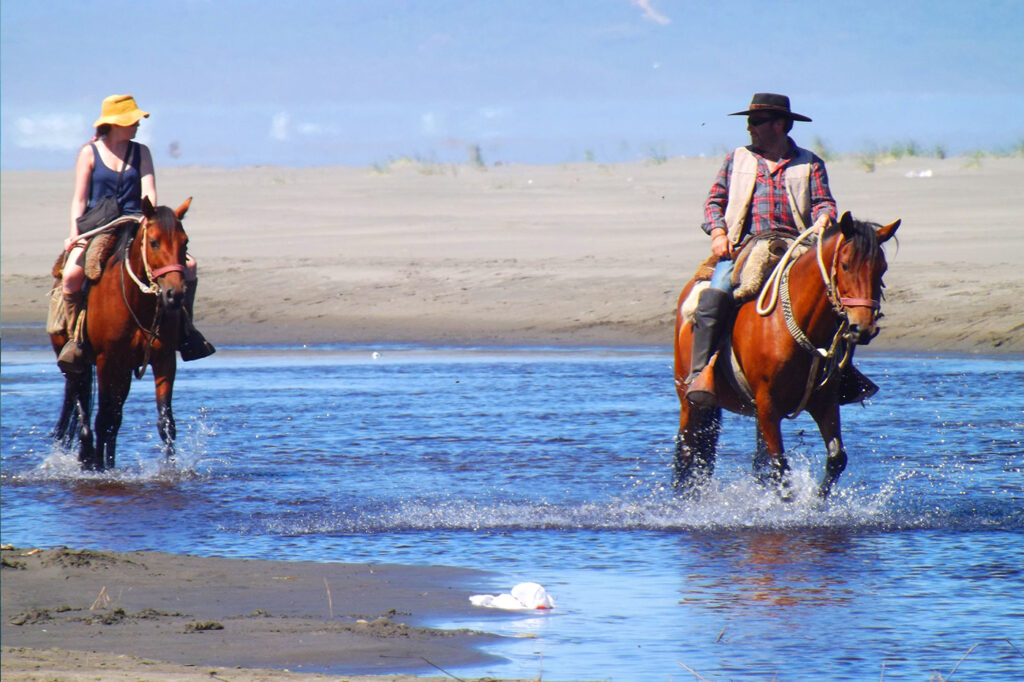 Days 3 & 4: Horseback Riding to Tricolor Beach, the Wild Side of Chiloe
South from Chiloe National Park, among towering cliffs shaken by the Pacific Ocean, and the impenetrable green native forest, this wild rugged place holds memories of an exquisite past. An old gold panning site, which in the 40s had its best days, was even visited by foreigners who came in search of the precious metal. The following years it became one of the most important sheep breeding areas, to end up with the years almost abandoned. However, the importance of the area is its ancestral history when the old indigenous tribes lived in this area during the end of the last glaciations, who left a great evidence of their trace in this area. Nowadays it's a very important local, and even worldwide, touristic attraction. After a short instruction we will ride our horses south, to Tricolor Beach, in the middle of Quilan Estate. On our way we will visit old local inhabitants and great fossil gatherers. On arrival, a well-deserved break and picnic.
Duration: 5 Days
Difficulty: Alto
Price: USD 1,100 per person
Minimum of 2 people required for this program.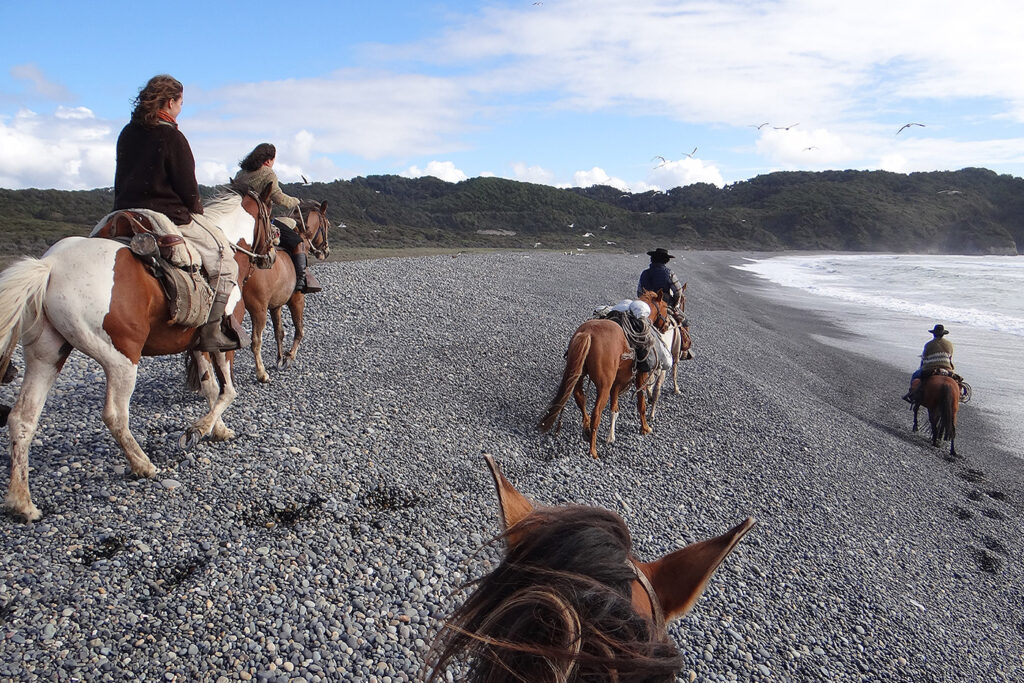 Our expeditions are exclusively designed for people who feel the enthusiasm of living a true adventure where anything can be. We work in pure and wild nature, and we select our audience for the tranquility of all the other members of our expeditions.
We would like to clarify that:
Our intention is not to sell a classic tour because we would not like to treat you as a tourist and only show you things of beauty. Our aim is to show you a way of life that is disappearing, and that is linked to the life and equestrian culture of Chiloe Island, Chile.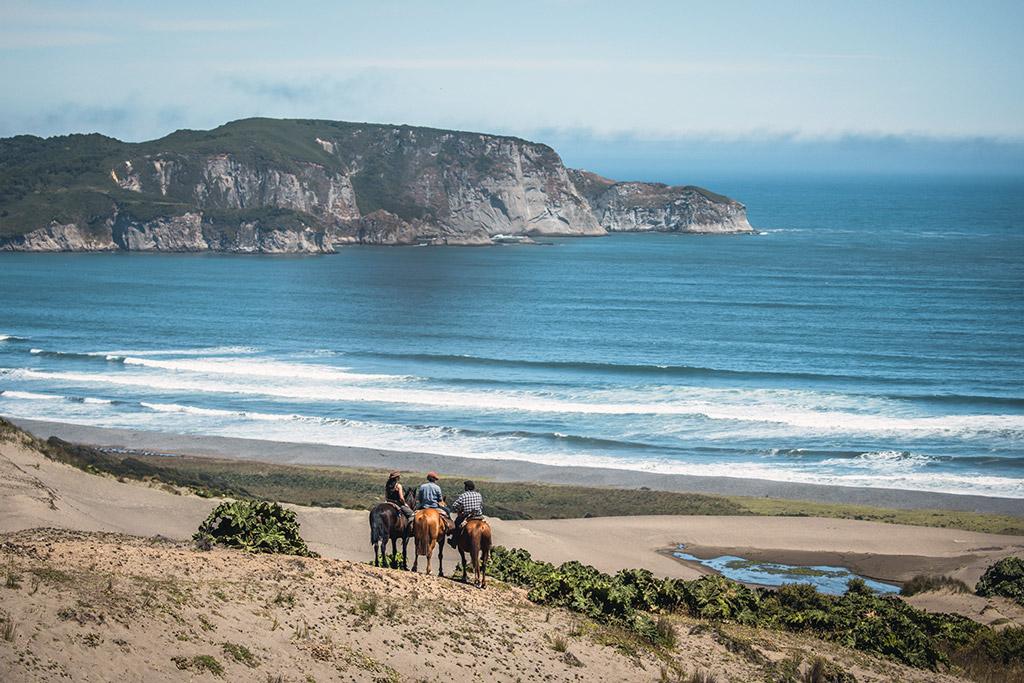 We have years of experience but new challenges can always occur. Sometimes nature imposes its conditions and we must accept them. It is important for you to be flexible in your travel arrangements.
Any questions you may have we will be glad to answer.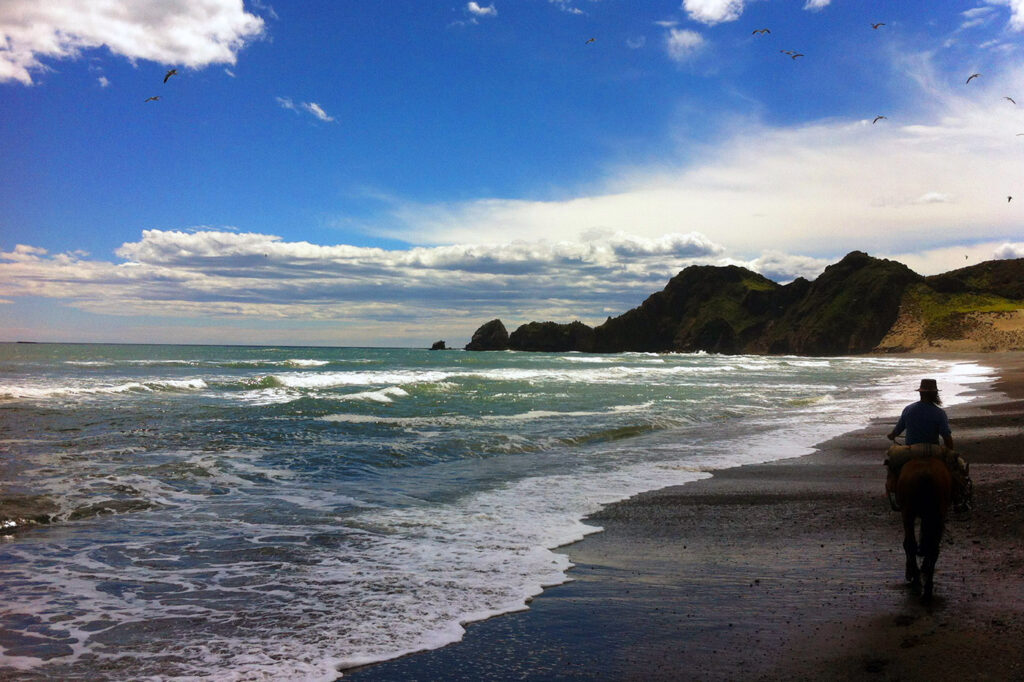 Itinerary
Day 1:
- Departure from hotel in Castro to Cucao
- Instruction.
- Horseback riding to Huentemó (visit to the place).
- Lunch (pic nic).
- Horseback ride to Cole Cole beach.
- Accommodation (Camping).
- Dinner (roast beef, salads, native potatoes, wine, mineral water, fruit).
- End of the day.
Day 2:
- Breakfast, Trekking to Anay beach.
- Lunch (Pic Nic).
- Horseback ride back to Cucao.
- Check in at the hotel, Palafito Cucao Lodge in Cucao.
- Dinner (Pulmay of seafood and fish, wine, beers, juices, mineral water).
- End of the day.
Day 3:
- Breakfast at the hotel.
- Horseback riding to Muelle del tiempo.
- Lunch (Pic Nic).
- Horse ride to Tricolor beach.
- Accommodation (Camping).
- Dinner (Salmon with embers, assorted salads, potatoes with embers, wine, mineral water, fruit).
- End of the day.
Day 4:
- Breakfast.
- Trekking by tricolor beach.
- Lunch (Pic Nic).
- Horseback ride back to hotel in Cucao.
- Farewell dinner (typical food of the area, pisco sour, wine, drinks, juice, coffee, tea, dessert of the area).
- End of the day.
Day 5:
- Breakfast at the hotel.
- Transfer Cucao Castro.
- End of activities.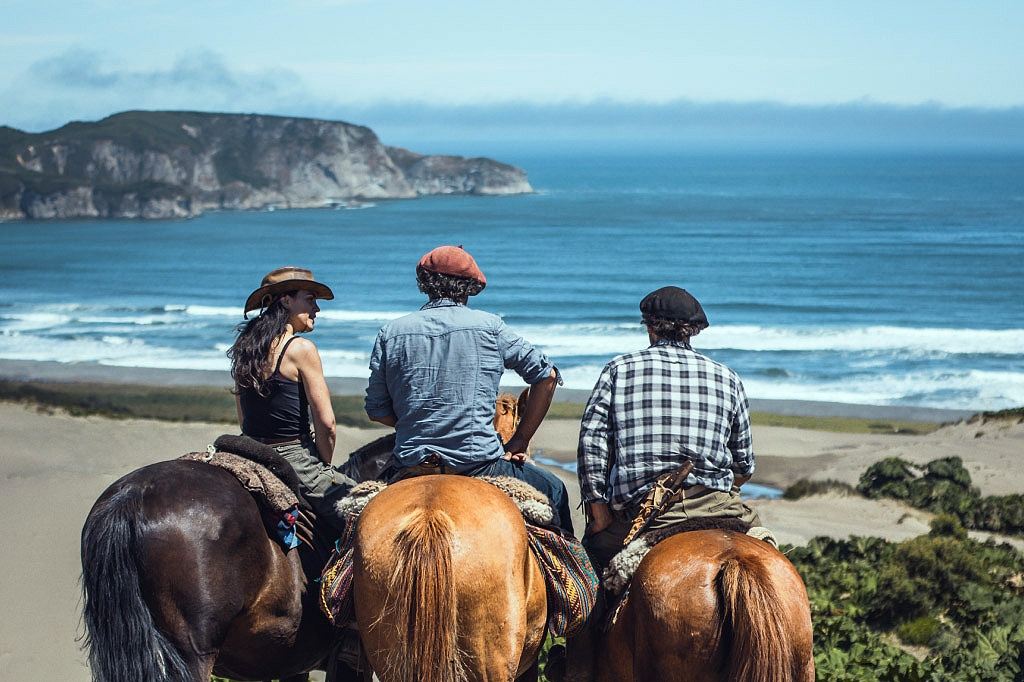 Equipment
- Adequate shoes.
- Sun protection (hat, sun block).